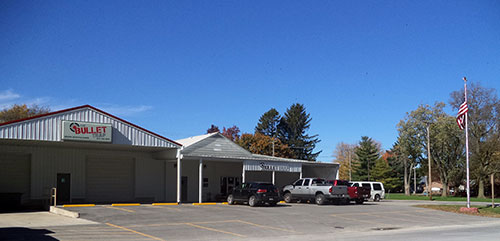 The Bullet Trap is an indoor rifle/pistol shooting range located in Macon, Illinois.
(217) 764-5678
279 N Front Street Macon, IL 62544
Mon/Wed/Fri/Sat: 10AM-5PM | Tues/Thurs: 10AM-8PM
Contact Us
Facility Rental

The Bullet Trap is available for private parties and special events. You can rent the entire facility for $250/hr with a 2-hour minimum. Rental includes the use of all rental guns, targets, and shooting lanes. Facility Rental does not include ammunition for rental guns.
Contact Us for Facility Rental Information
Policies
Bullet Trap Policies
All shooters are required to fill out a membership form and watch a safety video.
Shooters will show your FOID card and membership card at front desk.
No food or drinks allowed inside shooting range.
No centerfire rifles on weekends.
Maximum 3 persons per lane.
Youth under age 18 must share a lane with an adult.
The minimum age for a shooter is 12 years.
All firearms must be unloaded and cased when brought into the complex.
No concealed carry gun may be drawn from concealment anywhere in the building including the range.
When on the shooting range, firearms must be pointed down range at all times.
Only one shooter is allowed at the tray in the shooting booth.
Armor penetrating, explosive, incendiary, or tracer rounds are prohibited.
If you experience a misfire or malfunction, keep your firearm pointed down range, wait at least one minute before attempting to clear it. Then, if necessary, place your firearm on the counter pointed down range and obtain assistance from range personnel.
A non-FOID card holder may share a lane with a FOID card holder.
No shotguns or slug guns of any kind including the JUDGE. (Unless shooting 45 ACP rounds in the judge.)
Out of state shooters are welcome. Non-Illinois residents do not need a FOID card to shoot.
All guns must be uncased and cased in the confines of the shooting booth and NOT on the back shelf.
Range Rules
RANGE PERSONNEL
Shooting Range personnel are in direct control of the range at all times.
Shooting Range personnel are authorized to inspect all firearms and ammunition.
Range personnel will ban the use of firearms and ammunition they deem unsafe or not in good working condition.
Range personnel have the authority to ban persons handling a firearm in an unsafe or careless manner, those persons will be asked to leave and will be barred from further use of the range.
FIREARMS SAFETY PROCEDURES
All firearms must be unloaded and cased when brought into the complex. Concealed carry firearms must remain concealed.
Shooters must remain behind the firing line at all times.
If an object is dropped in front of the firing line (i.e. magazine, live rounds, etc.) contact range personnel for assistance.
While in the shooting range, including moving to and from the firing line, firearms must be cased. UNATTENDED FIREARMS MUST BE UNLOADED.
When on shooting range, firearms must be pointed down range at all times.
A responsible adult must accompany persons under 18 years of age. The adult shall act as coach and must remain with the minor at all times while the minor is using the range.
Only one shooter (or one shooter and one coach) is allowed in each shooting booth.
Once the individual has entered the booth the firearm may be loaded and the firearm must be pointed down range. NO UNCASED FIREARMS ALLOWED OUTSIDE OF SHOOTING BOOTH.
Accidental discharges, damages, injuries- NO MATTER HOW MINOR – MUST BE REPORTED TO RANGE PERSONNEL IMMEDIATELY.
When leaving the firing line temporarily, unload the firearm; lay the muzzle pointed down range, with action open and visible.
When finished shooting, unload the firearm and place into its case before leaving the booth; pick up all brass, targets, and garbage. Place items in appropriate disposal containers when leaving the range.
TYPES OF FIREARMS ALLOWED
All types of handguns may be utilized.
Any long gun that fires a pistol round (eg .22 LR, 9mm, .45 ACP) is allowed,
Center-fire rifles in .17 to .30 caliber are allowed on Lane 1 (weekdays only).
Shotguns are prohibited.
LANE USAGE 8 LANES
Lanes 2-8 handgun caliber only.
Lane 1 Rifle caliber or handgun
AMMUNITION
Armor penetrating, steel shot, explosive or incendiary rounds are prohibited.
Factory ammunition and reloads may be utilized on the range.
UNAUTHORIZED TARGETS
Firing at other than approved targets will result in revocation of range privileges and liability for damages to include repair cost for damaged property (lights, fixtures, walls etc) as determined by range personnel.
EYE AND EAR PROTECTION
ALL PERSONS ON THE RANGE MUST WEAR EYE AND EAR PROTECTION.
DRY FIRE
Dry firing is only allowed on the firing line or in the classroom with certified instructor present.
CEASE FIRE
Anyone present on the firing line may call a CEASE FIRE indicated by the yellow flashing strobe.
When you hear the command CEASE FIRE, or observe the yellow flashing strobe stop firing IMMEDIATELY, render the firearm safe, point the muzzle down range and lay the firearm on the tray. Step back from the firing line and wait for range personnel to announce when it is safe to resume firing.
MISFIRE OR MALFUNCTION
If you experience a misfire or malfunction, keep your firearm pointed down range, wait at least one minute before attempting to clear. Then, if necessary place the firearm on the tray pointed down range and obtain assistance from range personnel.
ALCOHOLIC BEVERAGES AND DRUGS
Shooters may not consume alcoholic beverages or drugs (including prescription and over the counter medications) before or during live firing.
Persons believed to be under the influence of drugs or alcohol will be refused use of the range.
PROHIBITED ON THE RANGE
Smoking is prohibited inside the complex and on the firing range.
Food and beverage is prohibited on the firing range.
Pregnant persons not allowed on firing range.
Convicted felons not allowed on the complex.
No holster draw.
No rapid fire.
No shotguns.
No slug guns.
MEDICAL SUPPORT
IN THE EVENT OF A MEDICAL EMERGENCY CALL 911 AND NOTIFY RANGE PERSONNEL IMMEDIATELY.
FFL Services
We recommend before you decide to buy a firearm elsewhere, please stop by or call us to see if we can save you money. Many times we can get you a better price, because we can help save the FFL transfer and shipping fees by ordering the firearm direct.
The Bullet Trap can facilitate the transfer of incoming firearms for eligible customers: US citizens with a valid Illinois Driver's License and FOID Card.
To begin a firearm transfer, buyer must fill out FFL to FFL Transfer Form. All fields must be completed.
Transfer Fees: $35 per transfer and $20 per gun within the same transfer.
The Bullet Trap FFL Transfer Form
Types of Transfers
Local to Local Transfers
A local to local transfer is when a local person is selling a firearm to another local and both parties want to ensure the transaction is conducted legally. This protects both parties involved.
To do this type of transfer, both parties must come into the store. The seller/owner will bring the gun in to be transferred and their identification. We will receive the gun from them and log it into our books and give them a receipt showing it has been transferred to us.
The buyer/receiver can come in at the same time as the seller or can come at a later time. The buyer will fill out the federal and state firearm purchase forms and present the proper current identification. We will process the background check and, upon successful completion, transfer the firearm to the new owner.
Long Distance Transfers
A long distance transfer is when a seller is too far away to bring the item in person. This is common when someone purchases a gun through an auction service, from a distant gun store, or receives a firearm from an out of state party.
The shipping dealer/individual MUST enclose an ink signed copy of their FFL or state identification along with an invoice or packing slip indicating the purchaser's name, phone number, and firearm details, including the serial number of the firearm being shipped to us.
Firearm Rental
We carry a wide range of firearms that you may rent. All rentals are $10/hour plus ammunition. Only ammunition purchased on-site may be used in the rentals. We are a Glock dealer and carry 3 calibers of Glock for rental.

Firearms Available for Rent
Ruger Mark III Target Pistol 22LR
S&W M&P 2.0 Pistol 22LR
Walther PK .380 Pistol
S&W M&P .380 Shield EZ Pistol
Glock 42 .380 Pistol
Glock 43 9mm Pistol
Glock 26 9mm Pistol
Glock 17 9mm Pistol
Glock 19 9mm Pistol
Glock 22 .40 Pistol
Glock 21C .45 Pistol
EEA 38 SPL Revolver